Ingredients
For the dressing:

1tsp Dijon mustard

1 tablespoon cider vinegar

Salt

Freshly ground black pepper

3 tablespoons of olive oil

For the salad:

3 tablespoons olive oil

250g smoked bacon lardons

4 slices of Genius Gluten Free White Bread, cut into 1cm cubes

400g chicken livers, trimmed and cut in half

3 skinned chicken breasts, cut across into 1cm thick slices

1 heaped tablespoon of freshly chopped tarragon

1 tablespoon of small capers, rinsed in water then drained

3 medium eggs boiled until, boiled for 5 minutes, peeled and cut in half, lengthways

3 spring onions, trimmed and sliced on the diagonal

2 large handfuls each of rinsed rocket and watercress (stems removed)

1 Belgian endive, broken apart and washed (red Belgian endive adds extra colour to the salad)

2 tablespoons finely chopped parsley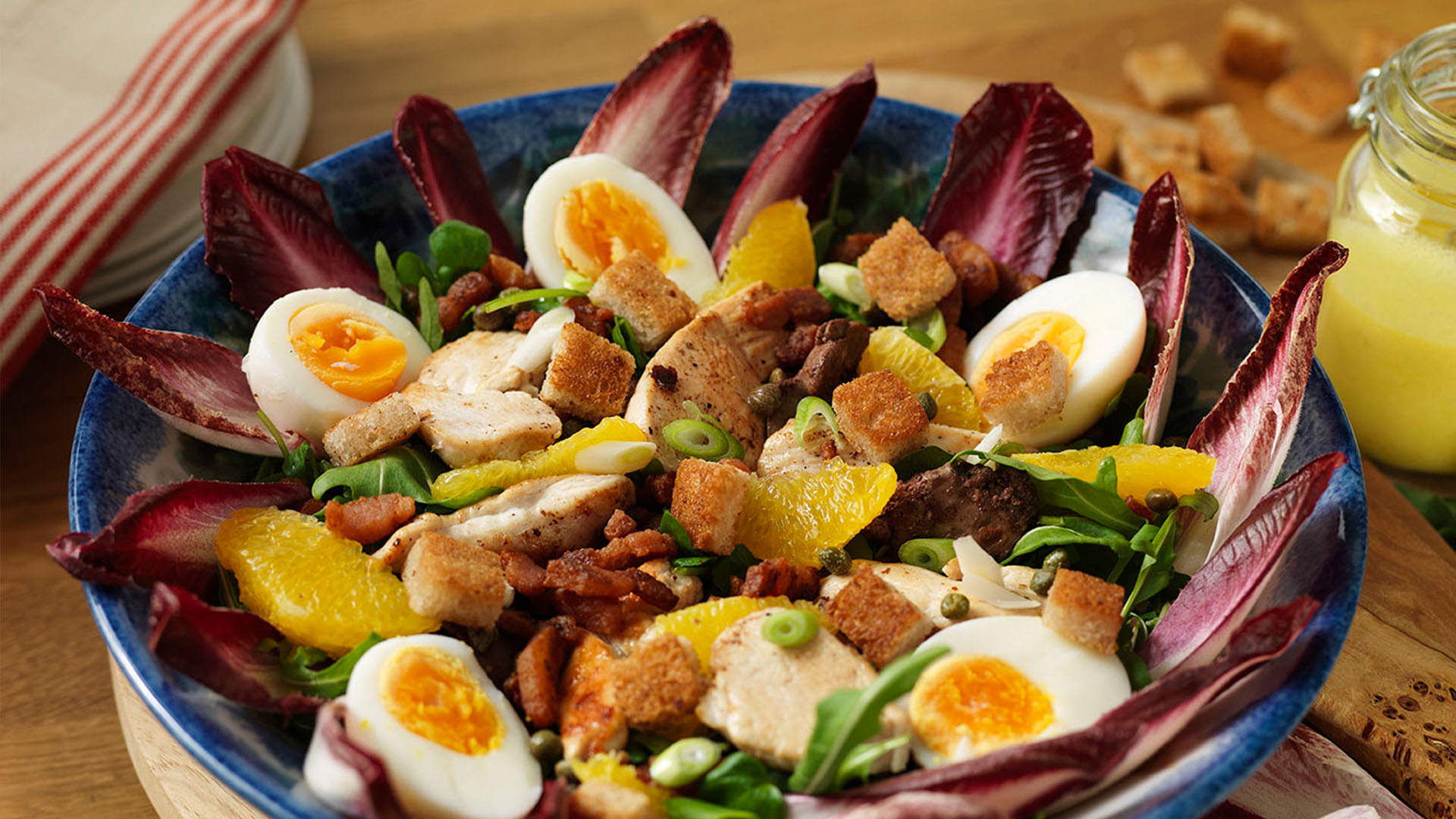 Method
10 mins prep, 20 mins cooking
6
To make the dressing: In a large bowl, mix together the mustard, cider vinegar, a pinch of salt and three grinds of black pepper. Whisk in the olive oil to form a thick dressing.


Heat a tablespoon of olive oil in a frying pan and fry the bacon until golden and crispy. Lift out of the pan with a slotted spoon into an ovenproof dish. Keep warm in a low oven.


Add the diced bread to the bacon fat and fry until golden brown and crisp. Lift out with the slotted spoon into a dish, sprinkle with a little salt and keep warm in the oven.


Add another tablespoon of oil to the pan and place over the heat. Add the sliced chicken breasts to the pan, season with salt and pepper and sauté gently until golden brown and just cooked through. Set aside.


If necessary, add another tablespoon of olive oil to the pan, add the prepared chicken livers and saute over a medium heat until brown on the outside and rosy inside. Return the chicken breasts to the pan with the spring onions and tarragon and cook for another 30 seconds.


Toss the prepared salad leaves in the mustard dressing and divide between 4 dinner plates.


Sprinkle on the warm croutons, bacon and chicken breasts and livers mixture.


Garnish the salad with a halved egg, chopped parsley and capers and serve immediately.