Ingredients
FOR TOAST BASKETS:

5 slices of white Genius Gluten Free Bread

Melted butter, or olive oil

FOR CHIPOTLE CHICKEN AND AVOCADO SALSA FILLING:

1 skinned chicken breast

¼ teaspoon Chipotle chilli flakes

1 heaped teaspoon smoked paprika

1 tablespoon Olive oil

Salt and freshly ground black pepper

2 tablespoon sweet corn

½ or 100g ripe mango flesh, finely diced

1 ripe avocado, peeled, stoned and mashed

1 garlic clove, peeled and pureed

1 large tomato, quartered, deseeded and finely diced

Finely grated zest and juice of 1 lime

1 tablespoon finely chopped fresh coriander

FOR SALMON AND QUAILS EGG FILLING:

100g cold skinned poached salmon, broken into flakes

10 cooked quails eggs, shelled and halved lengthways

2 tablespoons good quality mayonnaise mixed with half tablespoon finely chopped fresh dill and 1 teaspoon of lemon zest

20 small fronds of fresh dill for garnish

Freshly ground black pepper

FOR SERRANO HAM AND GOATS CHEESE FILLING:

2 medium beetroot, peeled and finely diced

½ onion, finely diced

2 tablespoons olive oil

½ teaspoon yellow mustard seeds

125ml balsamic vinegar

125ml red wine vinegar

150g granulated sugar

2 whole cloves

Pinch sea salt

3-4 grinds of freshly ground black pepper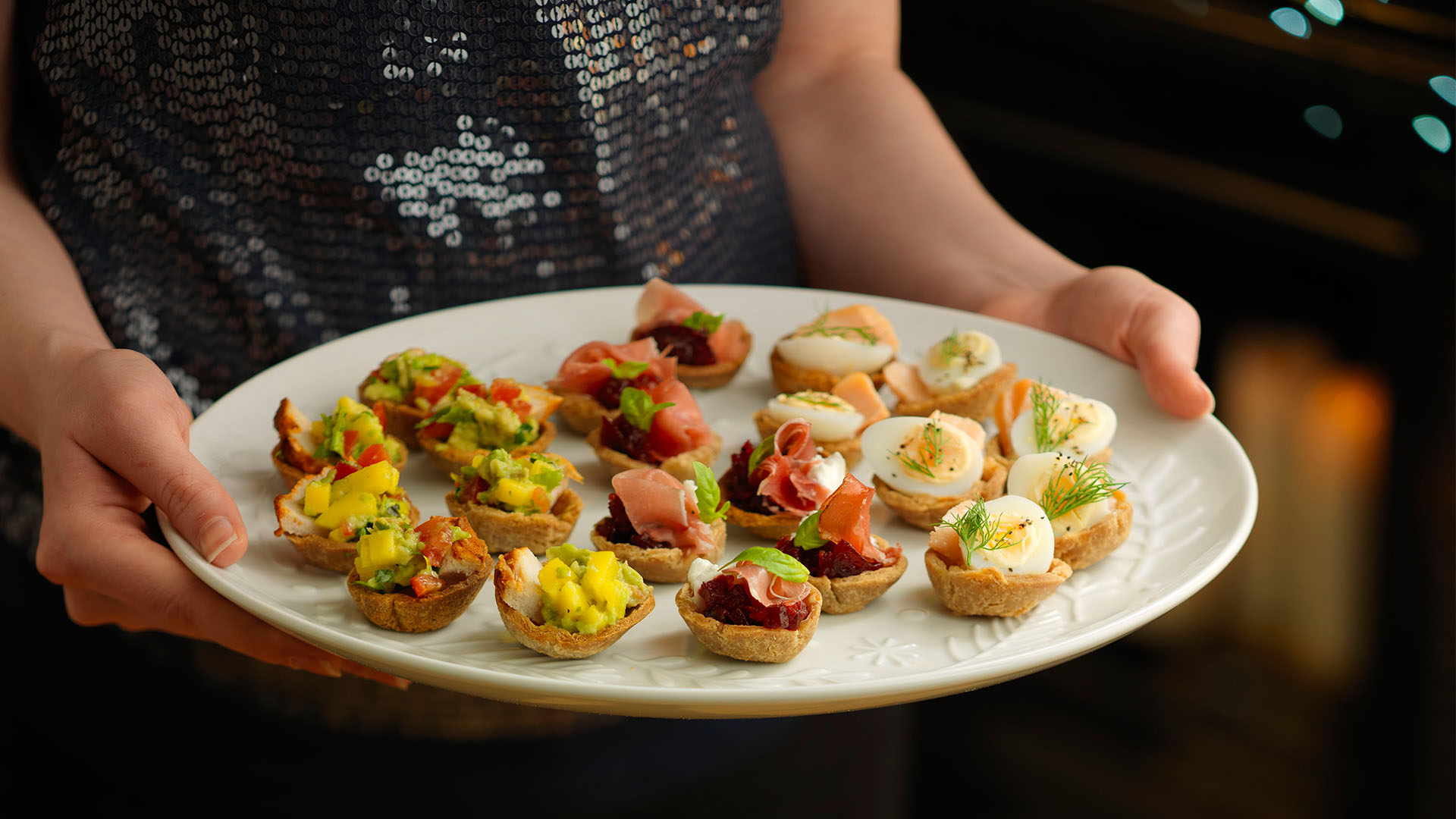 Method
10 mins cooking, 10 mins prep
10 Slices of bread makes 20 baskets.
FOR TOAST BASKETS:
Preheat the oven to 180'C/350'F/gas mark 4.


Remove the crusts and with a rolling pin, roll each slice to the thickness of £1 coin.


Cut out 2 rounds of bread from each slice using a small fluted cutter.


Brush both sides of the cut out bread with butter or oil and press into mini patty tins. Press an empty patty tin on top and bake in the preheated oven for 10 minutes or until golden brown and crisp.

FOR CHIPOTLE CHICKEN AND AVOCADO SALSA FILLING:
To prepare the chicken breast, first mix the chipotle chilli flakes, smoked paprika, olive oil and seasoning together in a small shallow oven proof dish. Coat the chicken breast in the spiced oil cover and chill in the fridge for 30 minutes.


Preheat the oven to 200'C.


To prepare the salsa, mix all the ingredients in a medium sized bowl and season with salt and pepper to taste.


Bake the chicken breast for 15-20 minutes or until cooked through. Leave to cool.


Slice the chicken breast across into 10 slices then cut each slice in half on the diagonal.


To assemble the canapes, place a heaped tablespoon of salsa in the toast basket, top with a piece of sliced chicken breast and top with a coriander leaf.


Serve immediately.


FOR SALMON AND QUAILS EGG FILLING:
Mix all the relish ingredients together in a bowl, season lightly with salt and pepper


Cover and chill for 2 hours before using


To assemble the canapes, place a teaspoon of relish in the base of the baskets, top with a piece of goat's cheese, curl ribbon of serrano ham next to it and sprinkle with chopped parsley.


Serve immediately


FOR SERRANO HAM & GOATS CHEESE FILLING:
Blend the beetroot and onion together in a food processor. Set aside.


Heat a little oil in a covered frying pan and fry the mustard seeds until popping covered with a lid.


Add the beetroot and onion to the pan and fry for 5 minutes.


Add the rest of the ingredients plus 125ml water to the pan and simmer uncovered for 45-60 minutes, or until the beetroot is soft and the liquid has reduced and thickened to syrupy consistency.


Remove the cloves and leave the relish to cool.


Add a small dollop of chutney to the bottom of each basket and top with a small piece of serrano ham and a slice of goats cheese.