Ingredients
For the burgers:

4 Simon Howie Premium Steak Burgers

150g Simon Howie Gluten Free Haggis

4 Genius Triple Seeded Soft Rolls

4 Cheddar Cheese Slices

1 Beef Tomato, Cut into four thick slices

1 Round Lettuce, 4 leaves removed then washed & dried

1 Tablespoon Vegetable Oil

For the caramelised red onion relish

1 Large Red Onion, sliced

1 Tablespoon Vegetable Oil

1 Tablespoon Balsamic Vinegar

1 Tablespoon Soft Brown Sugar

Salt & pepper to taste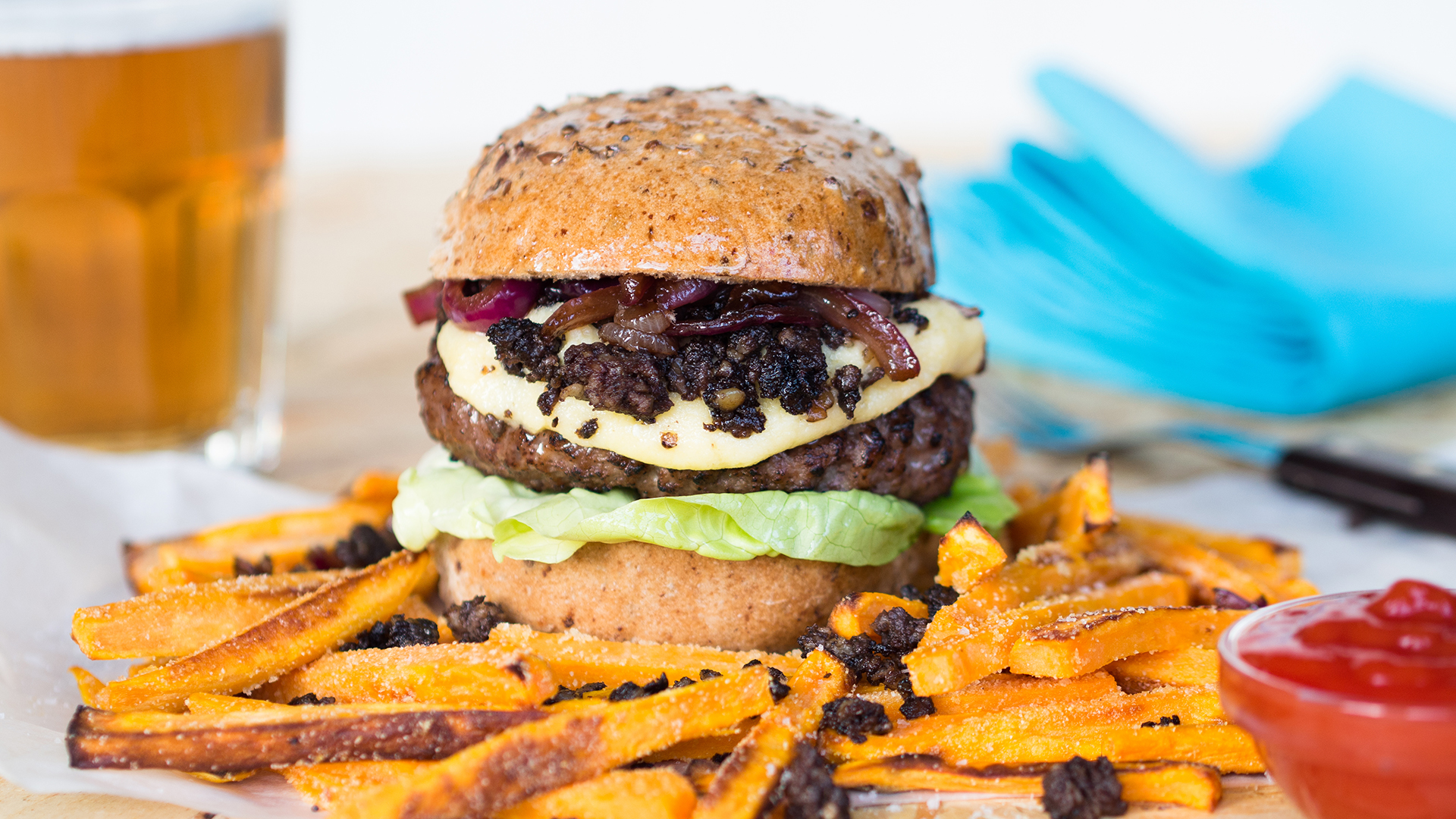 Method
10 mins prep, 25 mins cooking
4
1. Turn on the grill to a medium/high heat.

2. To make the caramelised red onion relish place a small frying pan on a medium heat with a tablespoon of vegetable oil. Add the sliced onions and reduce the heat. Sweat the onions until soft and translucent then add balsamic vinegar and sugar. Stir and allow the sauce to thicken and the onions to caramelise (this should take us around 15 minutes).

3. Meanwhile, place the burgers onto a grill pan and grill for around 8-10 minutes, turning occasionally.

4. Place another small pan onto a medium heat with a little vegetable oil, crumble in the gluten free haggis. Use a wooden spoon to break the haggis into small pieces and cook until piping hot and crispy at the edges.

5. Once the burgers are cooked through place a cheese slice on each and return to the hot grill until the cheese has melted and bubbles.

6. Now you can assemble the burgers. First place a lettuce leaf on the bottom half of the bun, then top with the burger and cheese, a slice of tomato, haggis and finally the caramelised red onion relish.

7. Serve with homemade sweet potato fries or wedges.