Ingredients
For the pie:
450g salmon fillet

450g haddock fillet

120g prawns (optional)

425g whole milk or dairy free milk

½ a large onion sliced

4 grinds black pepper

2 bay leaves

Large pinch of salt

4 hard-boiled eggs quartered

1 tbsp finely chopped parsley

30g butter or dairy free margarine

30g cornflour

700g seasoned mashed potato

For the crumble:
6 slices Genius white bread, whizzed to breadcrumbs

2tbs grated parmesan or mature cheddar cheese

3 grinds of black pepper

2 tbsp olive oil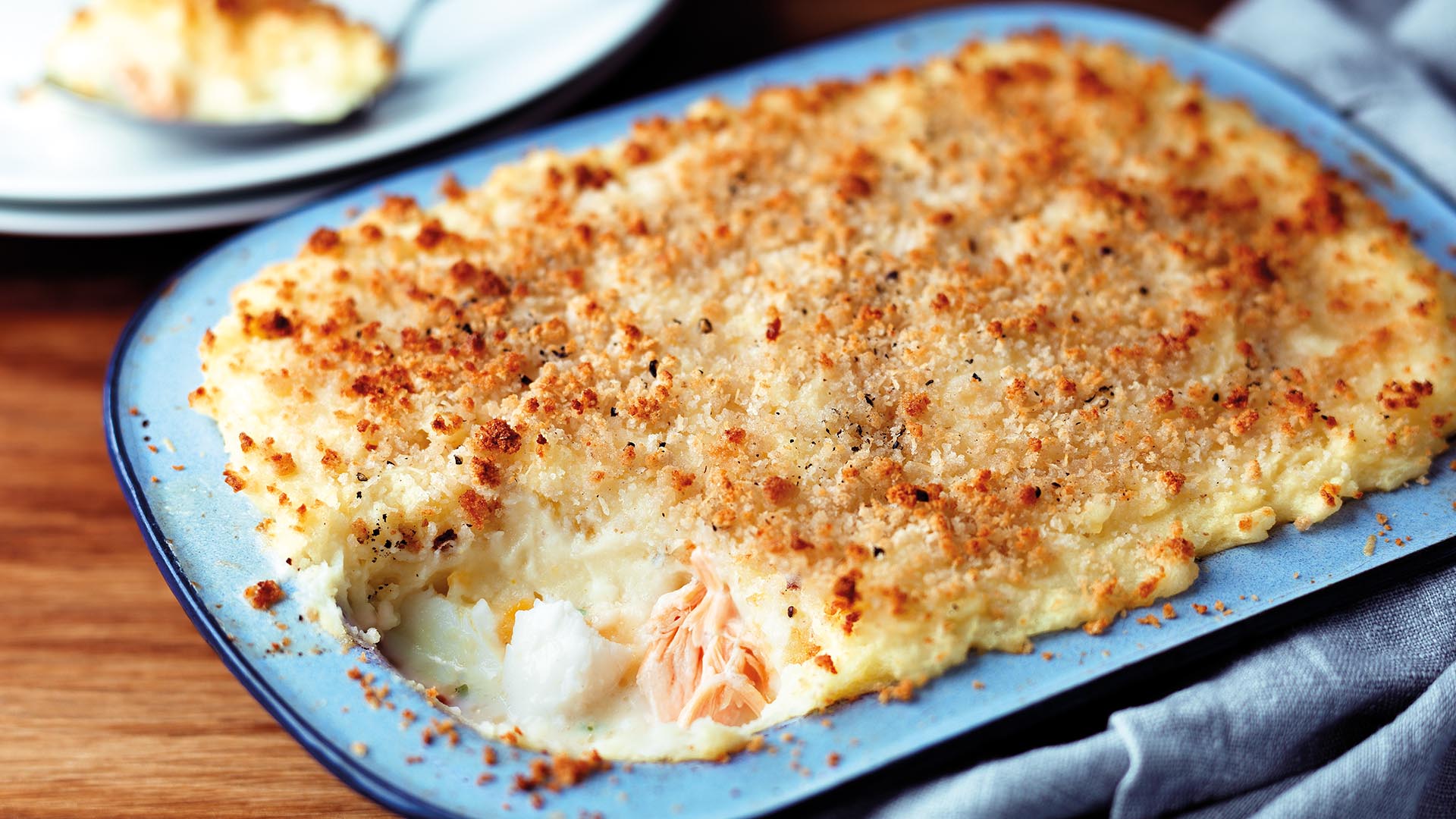 Method
30 mins prep, 40 mins cooking
6
Preheat the oven to 180°C


Arrange the fillets of fish in the base of large ovenproof dish, and cover with milk. Sprinkle over the sliced onion, add the bay leaf and lightly season with salt and freshly ground black pepper. Cover the dish with foil and bake in the oven for approximately 20 minutes or until the fish is just cooked through.


Strain off the milk and reserve for making the sauce, then break the fish into bite-size pieces and arrange in the base of a clean and deep oven proof serving dish. Then add the eggs and prawns if desired and sprinkle over the chopped parsley.


To make the sauce, in a small pan melt the butter, stir in the corn flour and remove from the heat. Gradually stir in the milk being careful to mix out the lumps before adding each splash of milk.


Return the sauce to a medium heat and stir until the sauce thickens and begins to boil. Taste and season as necessary, and then pour over the fish and eggs.


Spoon the mashed potato over the fish mixture and spread with a fork until all the fish is covered.


Mix the breadcrumbs, grated Parmesan and black pepper together and sprinkle evenly over the mashed potato. Drizzle olive oil all over the pie.


Bake the pie for 20 minutes on a baking tray or until the potato and crumble is golden brown and crisp.