Ingredients
2tbs raisins (optional)

1tbs mixed peel

50g dried apple rings, sliced across into quarters.

50g ready to eat pitted prunes, halved

The zest of 1 orange

The juice of ½ orange

50ml brandy (or freshly squeezed orange juice)

30-40g softened butter or dairy free margarine

1 loaf of sliced Genius Fruit Loaf, or 8 slices Genius White Bread, crusts removed

400ml canned coconut milk, or soy milk or whole mlik if you prefer

250ml coconut cream or soy cream or double cream if you prefer

1 vanilla pod, split down the middle with a sharp knife

½ teaspoon mixed spice

1 cinnamon stick

3 medium eggs

110g/4oz golden caster sugar

20g Coconut shavings (optional)

2-3 tbs apricot jam

Juice of ½ half of lemon

icing sugar

You will need: Ovenproof dish that holds 800ml/1 ½ pts of liquid, buttered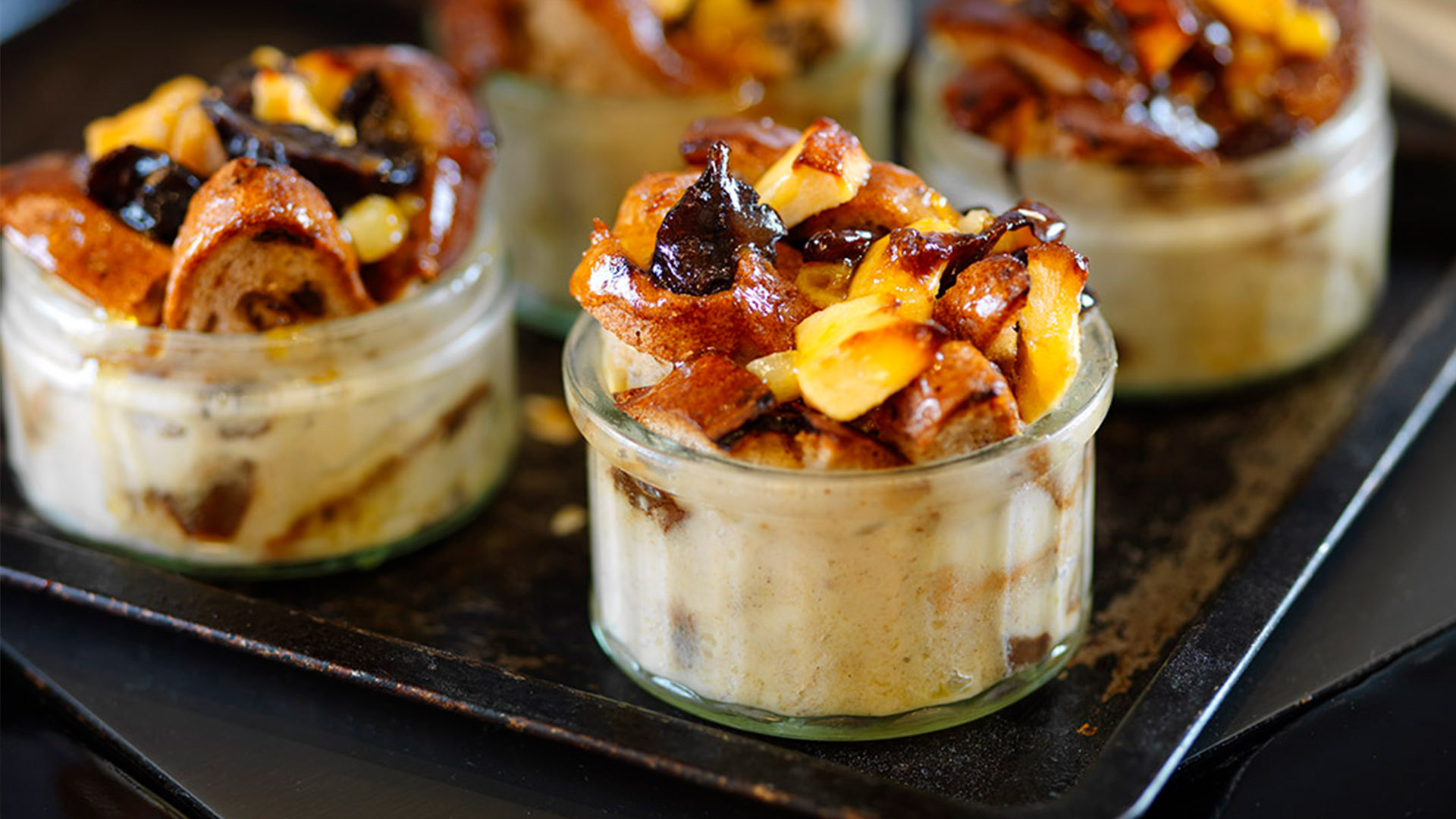 Method
30 mins prep, 20 mins cooking
6
Soak the raisins, mixed peel, dried apple and prunes in the brandy and orange juice.


Preheat the oven to 170'C/325'F


Butter the dish and all the slices of Genius Cinnamon Loaf (discarding the end crusts) then cut each slice in half on the diagonal and arrange in two overlapping rows along the length of the oven proof dish.


Pour the milk and cream into a pan and bring to boil with the vanilla pod, mixed spice, cinnamon stick and orange zest. Whisk the eggs and sugar together then stir in the hot milk mixture. Scrape the vanilla pod seeds into the milk and discard the pod.


Sprinkle the soaked fruit and remaining brandy and orange juice over the bread then pour over the custard. Sprinkle over the coconut shavings, if using.


Place the dish in a roasting tray on the middle shelf of the oven. Being careful not to splash the pudding, pour water into the roasting tray to half way up the oven proof dish. Gently push the roasting tray into the middle of the shelf and bake the pudding for 20 minutes or until lightly set and golden brown.


Heat the apricot jam with the lemon juice and stir until smooth. Using a pastry brush, daub the apricot jam over the pudding and dust with icing sugar before serving.