Ingredients
200g stoned ready soaked prunes, halved

200g ready soaked apricots, halved

200g ready to eat figs, stalks removed and quartered

100g dried apple rings, quartered

750ml strong Earl Grey tea

100ml apple juice

150ml orange juice

1 tablespoon Calvados (optional)

3 strips of paired zest of 1 orange

3 strips of lemon zest

100g dark Muscovado sugar

3-4 whole cloves

1x 5cm piece cinnamon stick

½ tsp mixed spice

1 star anise

6-9 slices Genius brown bread or Genius Cinnamon Fruit loaf, crusts removed

To make Vanilla Crème Anglaise

400ml whole milk or dairy free soy milk or canned coconut milk

1 vanilla pod split along its length

3 egg yolks

60g caster sugar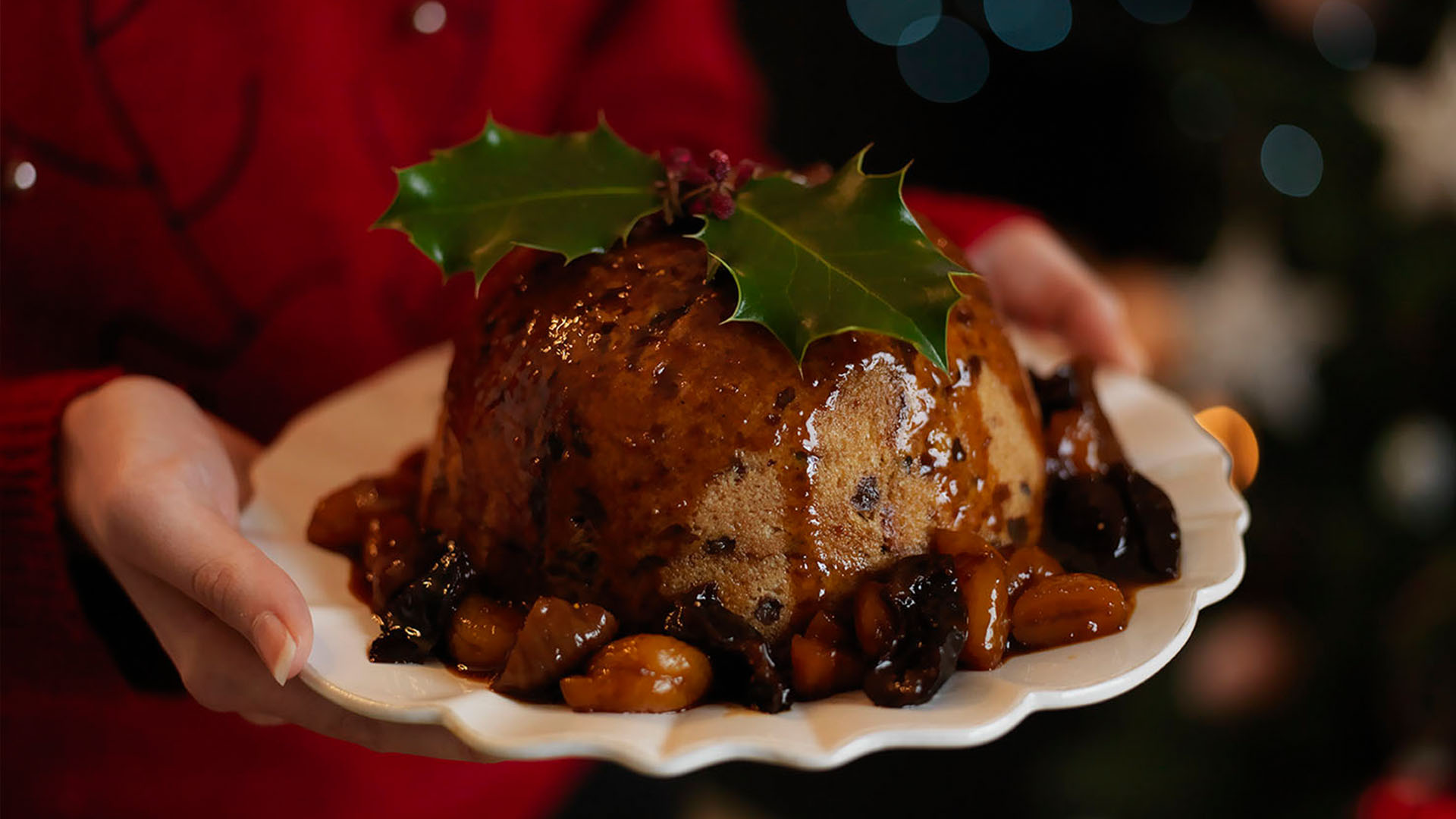 Method
70 mins prep, 30 minutes prep, Chill overnight
6-8
Place the dried fruits in a large pan and mix in the Calvados (if using), tea, apple and orange juice, sugar, cloves, cinnamon, mixed spice, orange and lemon zest and star anise. Bring to the boil and simmer slowly for approximately 20 mins. Strain the fruit and set the poaching liquid aside. Remove the cloves, cinnamon stick, lemon and orange zest and star anise from the poached fruit.


Return the juices to the pan and reduce by half over a medium heat.


Take the pudding basin. Using a pastry cutter, cut a round of bread from one slice to the size of the basin base and set aside. Cut the remaining slices in half on the diagonal. Dip each triangle of bread into the cooking juices and line the inside of the pudding basin with them, taking care to ensure that each slice closely fits and slightly overlaps the next. Gently press the round bread shape on the bottom of the lined bowl. Press the bread tightly against the sides of basin.so there are no visible gaps between the bread.


Spoon the fruit into the basin until it reaches just below the rim of the bowl. Retain any excess fruit for serving. Pour half the juice into the pudding and save the rest for serving the pudding.


Cover the fruit with the remaining bread triangles.


Place a small plate on top so that it rests on the bread just below the rim of the bowl.


Stand the basin in a larger bowl - this will catch any juices that escape.


Place two 400g cans on the plate and chill overnight.


The following day make the Vanilla Crème Anglaise. Slowly bring the milk, with the vanilla pod added, to a simmer.


In a medium sized bowl, stir the egg yolks and sugar together until smooth.


Slowly stir the simmering milk into the egg mixture then pour the custard back into the pan. Stir over a low heat until the custard starts to steam and thickens to the consistency of double cream. Remove from the heat.


Strain the custard through a sieve into a clean bowl to catch any cooked lumps of egg and leave to cool.


No more than 30 minutes before serving, place the pudding in the bowl into the microwave and heat for approximately 10 minutes or until the pudding is warmed to its centre when tested with a skewer.


To serve, turn the pudding out on to a serving plate and pour the reserved juice over the pudding to give it a glossy sheen. Sprinkle with retained fruit.


Pour the crème anglaise into a serving jug or serve crème fraiche or yoghurt in a serving bowl.


Slice the pudding into thick wedges and, carefully transfer to a bowl and spoon over any fruit left behind and some of the poaching juice. Serve with Crème Anglaise.