Ingredients
FOR THE HAZELNUT PASTRY:
110 g rice flour

55 g cornflour

55 g ground hazelnuts

1 tsp ground cinnamon

pinch of salt

110 g cold butter or dairy-free hard margarine, cut into small pieces

70 g caster sugar

1 egg, beaten

FOR THE PLUM & CINNAMON FILLING:
500 g plums, stoned and quartered

2 tbsp soft light brown sugar

1 tsp ground cinnamon

zest of 1 orange

1 tbsp ground hazelnuts

1 egg, beaten

large pinch of demerera sugar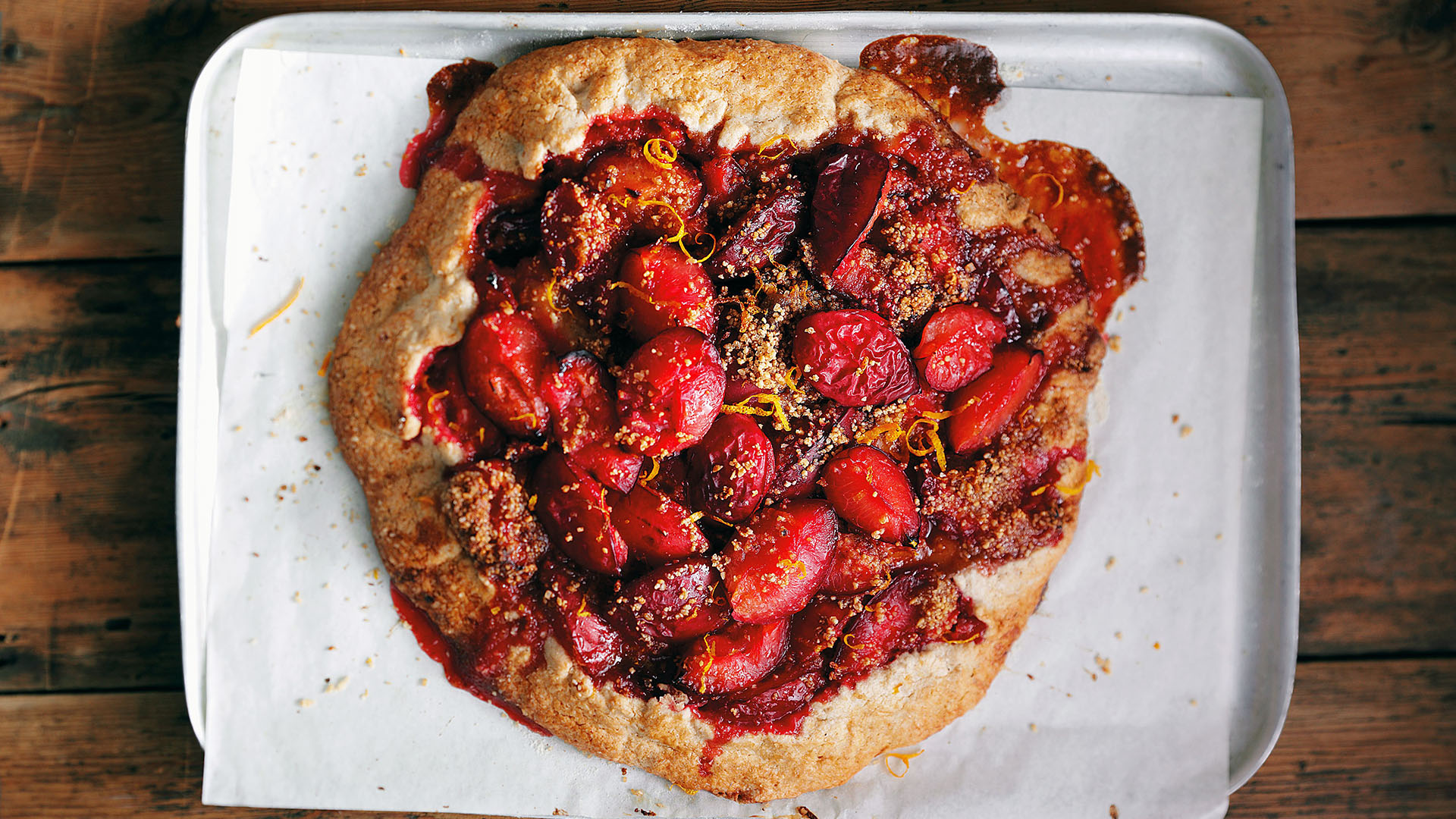 Method
30 mins prep, 40 mins cooking
Serves 6-8
Preheat the oven to 190°C.


To make the pastry, stir the rice flour, cornflour, ground hazelnuts, cinnamon and salt together in a medium mixing bowl.


Rub the butter into the dry ingredients with your fingertips (or pulse in a processor) until the mixture resembles breadcrumbs. Stir in the sugar. Pour in the beaten egg and bring the pastry together, first with a table knife and then by lightly kneading the dough to a smooth pastry with your hands.


Between sheets of cling film, roll out the pastry into a circle approximately 25 cm wide and 3 mm thick, and transfer to a large shallow roasting tin.


Mix the plums, sugar, cinnamon, orange zest and ground hazelnuts together. Heap into the centre of the pastry, leaving a 5-cm border around the edge.


Draw the edge of the pastry circle up over the fruit, pleating and pinching the pastry to form a leak proof 'bowl' to hold the cooked plum juice.


Brush the pastry with beaten egg and sprinkle with the demerara sugar.


Bake the tart in the oven for 40 minutes, or until the tart is golden and crisp and the centre of the pastry base is cooked.


Using 2 fish slices, transfer the tart to a serving dish. To serve, slice into generous wedges and serve with vanilla ice cream.