Ingredients
For the crostini:
1 Genius Cob
Olive oil
Sea salt

For the tomato & mozzarella topping:
1 punnet cherry tomatoes
1 ball mozzarella
Fresh thyme
Olive oil
Salt and pepper

For the kale pesto:
2 cups packed kale (stems removed, roughly chopped)
1 cup packed basil
1 tsp sea salt flakes
4 cloves garlic
1/4 cup olive oil
1/4 cup toasted walnuts
1/2 cup grated basil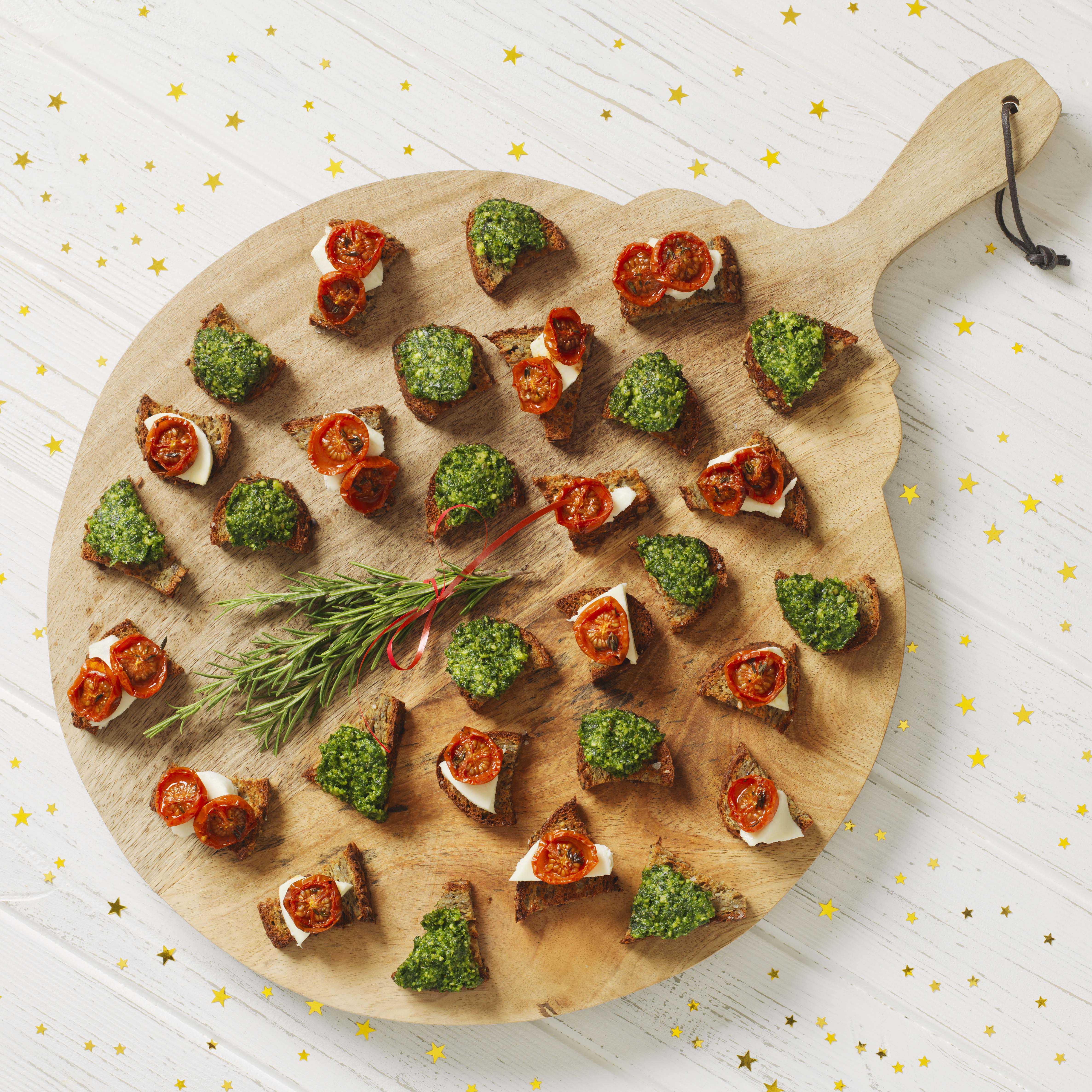 Method
The Crostini:
Pop your oven on to 200°C/fan 180°C.
Slice the Genius Cob and cut each slice into bite size pieces.
Place the pieces of cob on a baking sheet lined with greaseproof paper, drizzle with olive oil and sprinkle with sea salt.
Bake these for 5-6 minutes, until the pieces of bread are evenly toasted.
Remove from oven and leave on a wire rack to cool.
Tomato & Mozzarella Topping:
Lower your oven temperature to 160°C/fan 140°C.
Cut each tomato in half, place cut side up and sprinkle with fresh thyme leaves, olive oil, sea salt and black pepper.
Roast the tomatoes in the oven for about 25 minutes until they have shrivelled a little and slightly dried. Remove from the oven and leave to cool.
Meanwhile, cut the mozzarella into small pieces.
Top half of the crostini with mozzarella slices and roasted tomatoes.
Kale & Walnut Pesto:
In a blender, pulse together the kale, basil, garlic, salt and olive oil.
Scrape the sides down and re-blitz so you have a good purée.
Add the walnuts and parmesan and blitz briefly until the pesto is of the consistency you want.
Top the other half of crostini with a spoonful of pesto.