Ingredients
For the soup:

1 large butternut squash, peeled, de-seeded and chopped into chunks (approx 1.25kg flesh)

1 bulb garlic

2 sticks celery, chopped

1 medium onion, chopped

750ml stock (vegetable, or chicken, it's your choice)

Salt and pepper

For the croutons:

3 slices Genius white bread

Garlic salt or granules

Chilli flakes

Sunflower or light olive oil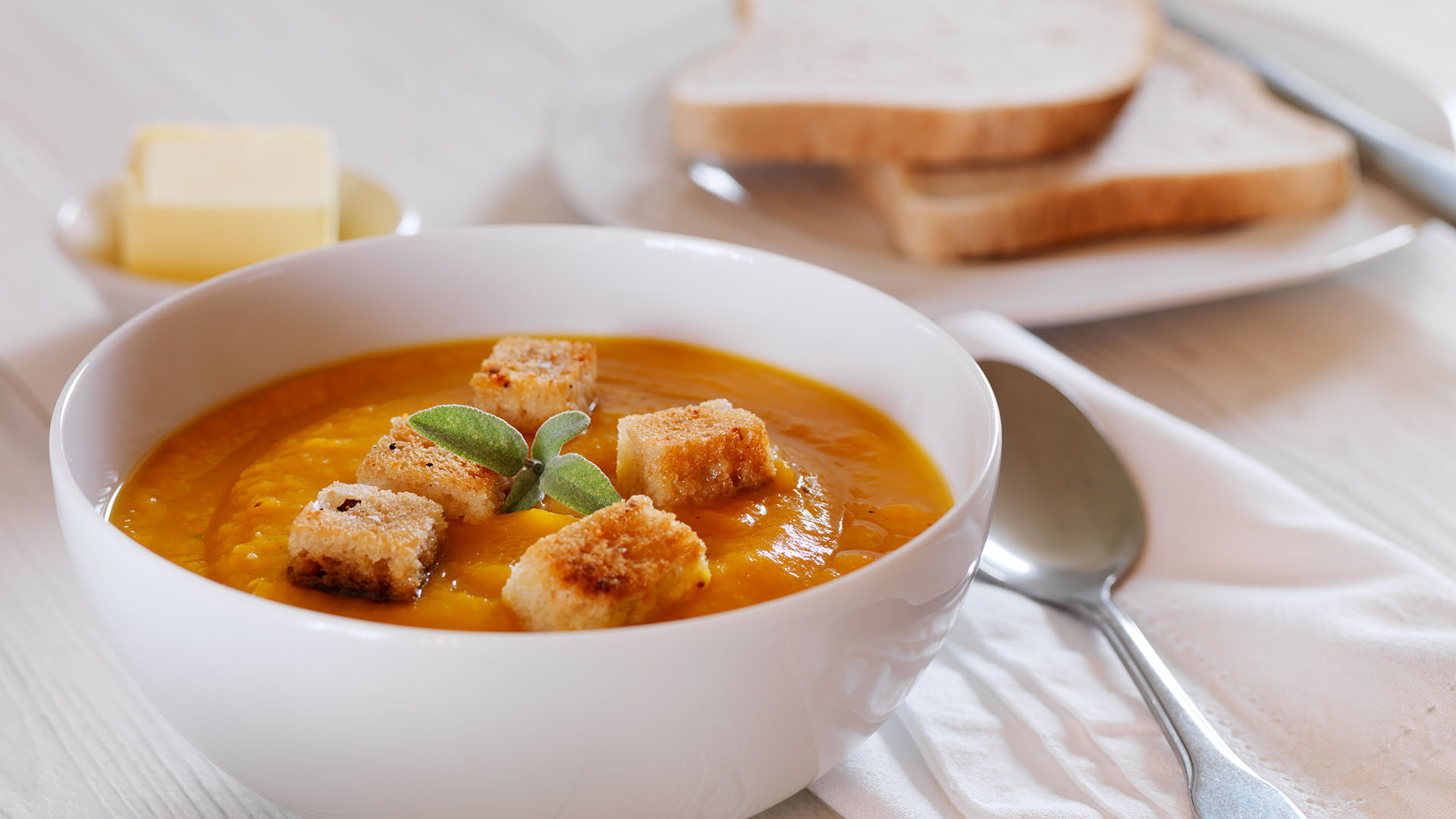 Method
2 hrs cooking, 15 mins prep
6
To prepare the soup, place the butternut chunks in a large roasting tin along with the whole bulb of garlic. Put this in a hot oven (200c) and roast for approx 1 hour. This really concentrates the flavours and gives you beautiful roast garlic cloves to add to your soup.


Once the butternut squash has roasted and is just starting to frazzle at the edges take it out of the oven and tip it into a large saucepan. Add the celery, onion, stock, salt and pepper and (if you wish) squeeze the roasted garlic cloves out of their skins and add them too. Bring this to the boil and simmer for half an hour. Blitz with a hand blender until the soup is smooth. Adjust seasoning as necessary.


For the croutons cut the bread carefully into cubes approx 1cm, toss these in hot oil in a frying pan along with the garlic salt and chilli flakes until they are golden brown. Remove from heat and drain on absorbent kitchen paper so they are not too greasy. These can be stored in an airtight container until they are needed.


To serve, bring the soup up to temperature, ladle into bowls and place a few croutons on top. A swirl of chilli oil, or a dollop of crème fraiche/Greek yoghurt would also add a great finishing touch.