Ingredients
100g cured Spanish ham, finely diced

50g finely chopped mushrooms

2 tbsp olive oil

40g unsalted butter

60g corn flour

500ml milk

½ teaspoon grated nutmeg

4 grinds of freshly ground black pepper

2 eggs, beaten

4 slices white Genius bread, whizzed into fine breadcrumbs

30g Parmesan cheese, finely grated

Vegetable oil for deep frying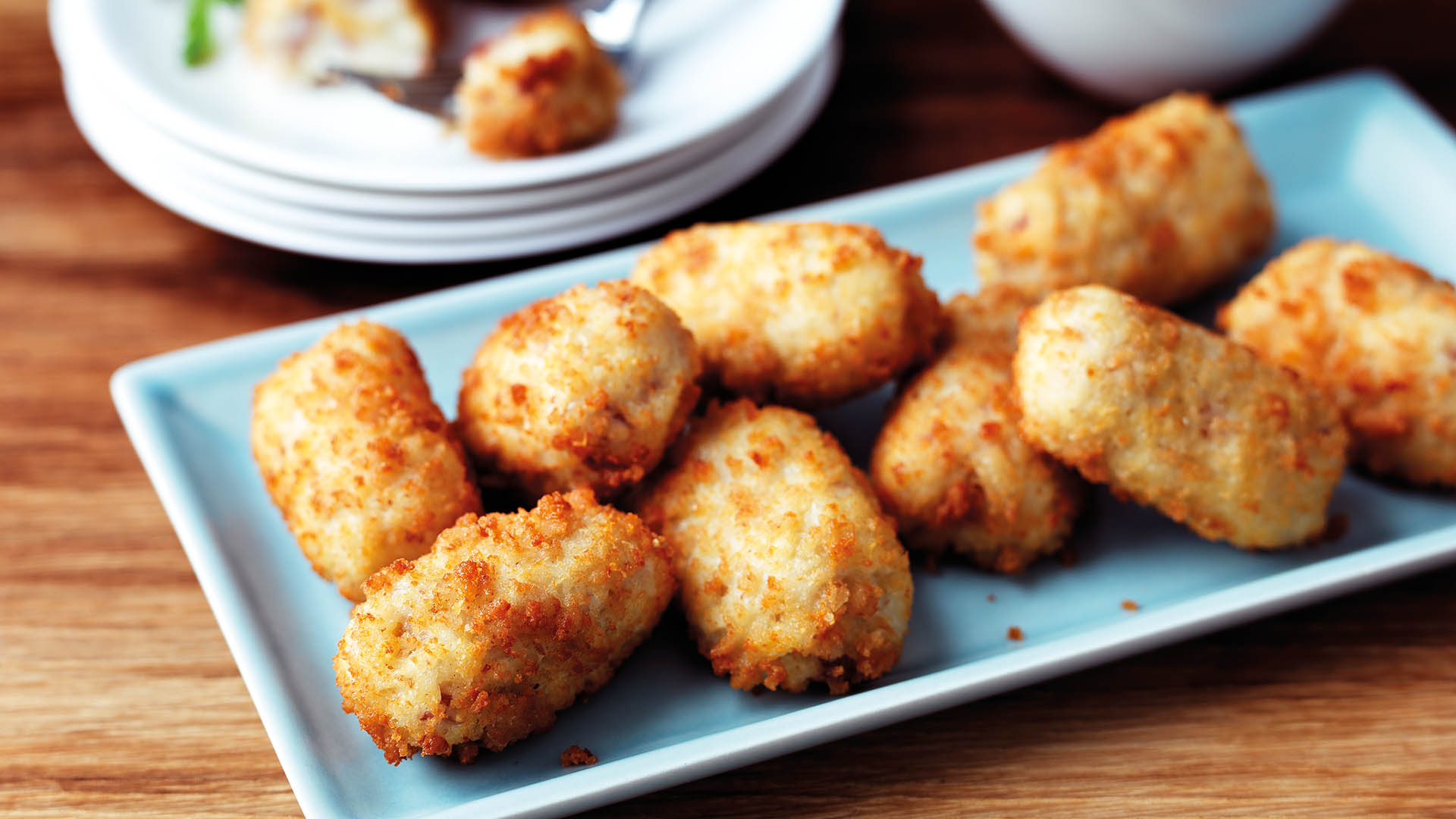 Method
15 mins prep, 30 mins cooking
16 croquetas
Heat the oil and butter in a medium sized pan over a medium heat. Gently fry the ham and mushrooms until light golden.


Remove the pan from the heat and stir in the corn flour.


Gradually stir in the milk, then return to the heat and continue to stir until the mixture thickens. Add the nutmeg and black pepper and continue to cook, beating it as it starts to boil, until smooth. Cook for another 5 minutes until the mixture holds its shape. Spread on a large plate and leave to cool. Cover with cling film and refrigerate for at least 2 hours to firm up.


Put the beaten eggs into a shallow wide bowl, and the breadcrumbs and cheese into another wide dish. With floured hands, roll spoonfuls of the mixture into cylinders 5cm long, cover with beaten egg then roll in the crumb mixture until evenly covered. Shake gently to remove any loose breadcrumbs.


Fill a large pan 1/3 full with the vegetable oil. Heat until a cube of bread browns in 30 seconds. Fry the croquetas in batches for a couple of minutes or crisp and golden all over, then lift out with a slotted spoon and drain on kitchen paper before serving immediately.